Calvin Harris faces backlash for recent Twitter beef, DJs react & more
The age of social media has certainly delivered plenty of highlights whether good or bad. As electronic music remains dominant in the digital age, it is no surprise to see the kind of interactions we get from artists on a daily basis. Like in every entertainment industry, there's drama. EDM alone is definitely not shy to the subject. Today, Calvin Harris has been criticized for some tweets that have sparked outrage on Twitter.
He was called out on Twitter by Apashe, who accused the Grammy Award-winning producer of stealing inspiration from him on his latest music video for 'Giant'. As the argument was brought to the public attention, many weighed in on the accusation. Of course, Calvin has never been one to bottle in his opinions.
Really @CalvinHarris ? I know you're getting old and unoriginal, but did you have to copy my music video?! That's just fucking lame. pic.twitter.com/3kajjIa8Vj

— A P A S H E (@Apashe_Music) January 31, 2019
@TenGraphs proceeded to heavily criticise the Scottish DJ: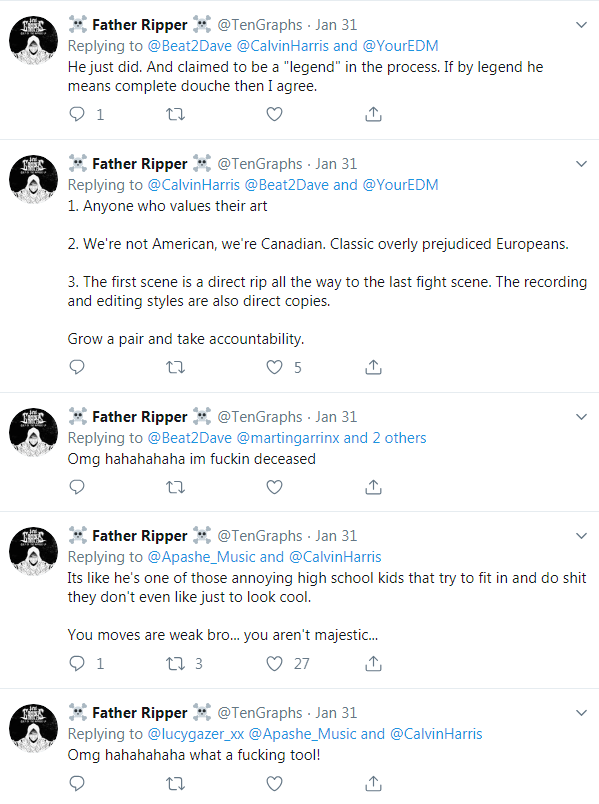 Soon after, Calvin Harris retaliated with a tweet that has sparked outrage throughout the industry.
The now deleted tweet caused quite a riot on social media for various reasons. Many arguing the DJ had a poor choice of words, while others felt their favored genre being disrespected. As the tweet was blown well out of proportion, Calvin simply cleared everything up that his intentions were directed at "an abusive guy."
Hi I didn't say dubstep was shit I was addressing one abusive guy NOT an entire genre thanks 👍

— Calvin Harris (@CalvinHarris) February 1, 2019
Many of his peers have since reacted to the situation below. What do you guys make out of this?
Dear dubstep kids – please keep getting mad at @CalvinHarris …. I'm hoping if you guys keep talking enough shit he'll end up making a dubstep record in spite of all of you and completely change bass music forever for the better 😇 🤞

— JAUZ (@Jauzofficial) February 1, 2019
I don't think @CalvinHarris intentions were what everyone is trying to make it out to be. The guy put dance music on the map for all of us and people are just reaching for 2 seconds of spotlight.

— marshmello (@marshmellomusic) February 1, 2019
Calvin Harris Riddim Marshmello Fortnite Ninja Brazzers Trump Drake Kanye Kardashian Anime

Ok cool now to get 9,0000,000 followers in a day

— FuntCase | DPMO (@FuntCaseUK) February 1, 2019