Noisia announce their split
Bass legends Noisia have been dominating the scene for 20 years now. Nik Roos, Martijn van Sonderen and Thijs de Vlieger have been the driving force behind so many artist's careers and have been some of the biggest inspirations for producers around the world. With too many hits and remixes to list (and albums too), the trio truly pushed the boundaries on Drum N Bass before also spreading out into other sub-genes and thus paving the way for future artists to experiment with molding genres together. Mentoring none other than powerhouse Skrillex, they are looked up to and respected by everyone around the world, so it hurts to see that Noisia will be no more, as they have announced split.
All good things must come to an end, and that unfortunately means the continuation of Noisia. In a shocking and heartbreaking statement posted to their social media channels, it was announced that in 2020, all three members of Noisia will diverge onto separate paths and explore their solo careers. None of the members are quitting music and will continue new projects and even collaborate with each other in the future but not under the Noisia name. The main reasoning for the split is the members all want different things and wish to not compromise the quality of the Noisia project to do so.
"Trying to reconcile these three individual developments into one consistent entity became too much of a compromise. For the longest time, we could each sufficiently express what we wanted in our music, but that gradually became more and more of a struggle. Instead of choosing one direction, we preferred to choose three directions. We're still friends. We have studios in the same space. We run companies together. We will still make music together. We still have projects together, and we would like to collaborate with each other more on other projects — just not as Noisia." – Noisia via Billboard
The group will round out their final year with radio shows, more new music and a farewell DJ tour. The full statement is available to read below.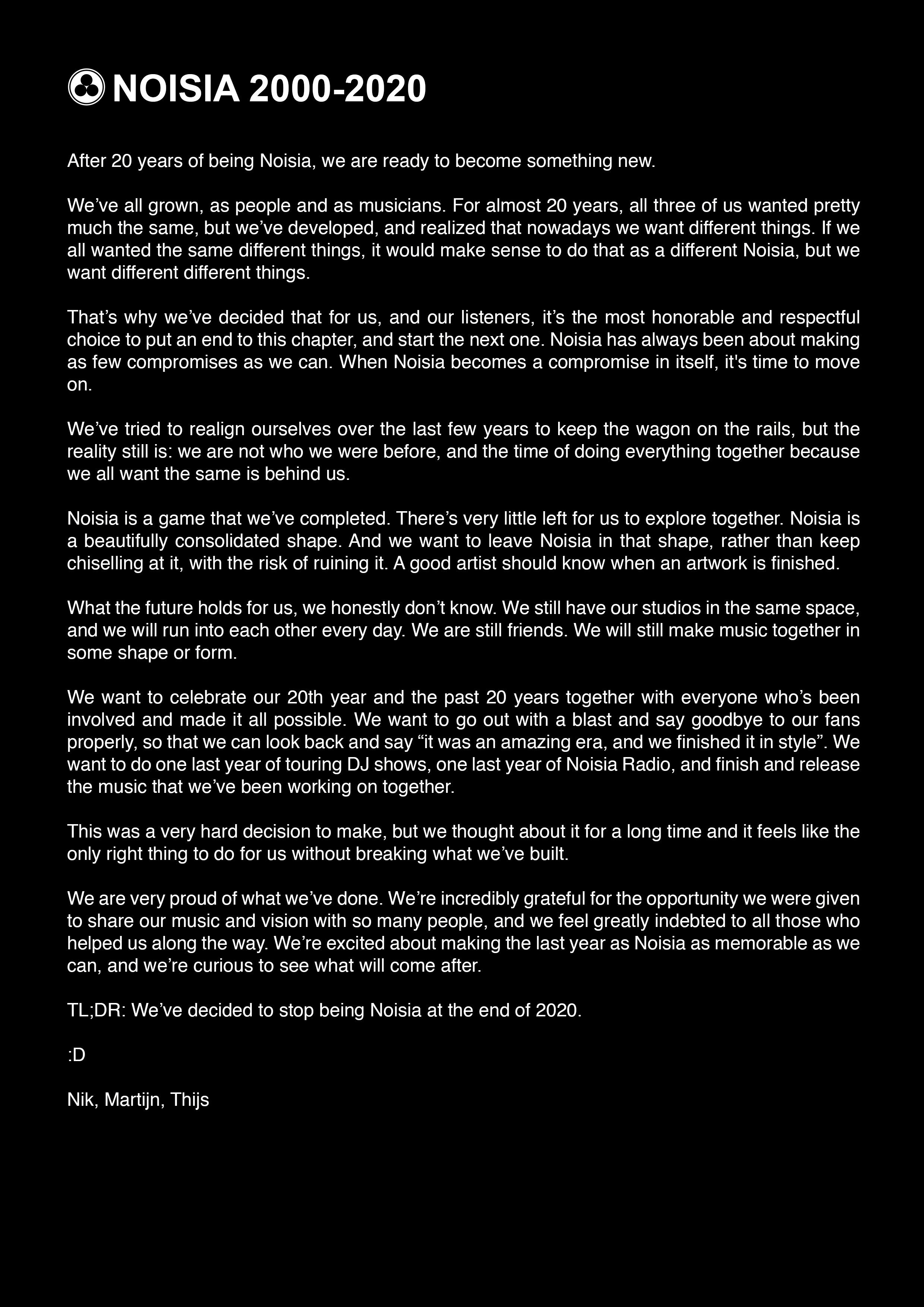 Get updates about electronic music & festivals on Facebook messenger -> https://m.me/weraveyou?ref=getStarted