Ember Shores returns: join ILLENIUM and more in Cancún
Join ILLENIUM and an incredible lineup of artists as they converge in Cancún for Ember Shores.
A few years ago, the mastermind ILLENIUM joined forces with Disco Donnie Presents, Feyline, and Festication to create an extraordinary event known as Ember Shores. This visionary destination festival, held in the breathtaking locale of Cancún, has since become a cherished annual gathering, drawing in thousands of enthusiastic attendees for an unforgettable experience filled with incredible performances, immersive activities, and so much more.
After much anticipation, ILLENIUM recently announced the return of Ember Shores for yet another remarkable edition, set to take place from December 8 to December 10. As the event unfolds at the luxurious and all-inclusive Four-Diamond Paradisus Resort and the Four-Star Fiesta Americana Condesa, festival-goers can look forward to not only ILLENIUM's mesmerizing daily performances but also an impressive lineup of other exceptionally talented artists.
At the forefront of the roster, the dynamic duo Dab The Sky, trance sensation Gareth Emery, and the electrifying Sullivan King are set to captivate the audience with their distinctive musical prowess. Additionally, an eagerly anticipated debut back-to-back set featuring SLANDER and ILLENIUM is sure to thrill and entice even more fans to join the festivities.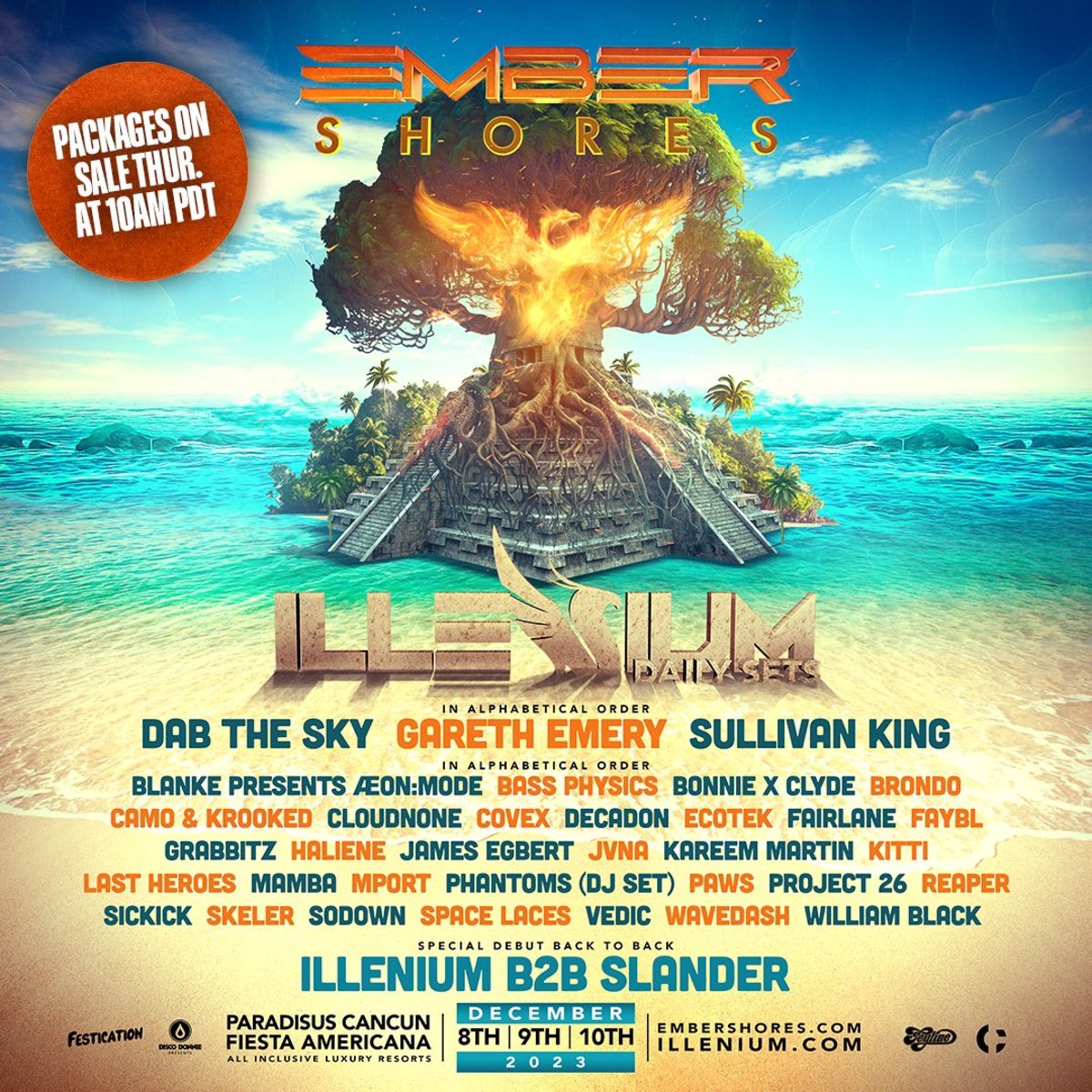 Image Credit: ILLENIUM
For bass music enthusiasts, Ember Shores promises an unparalleled showcase of talent. Blanke will showcase his ÆON:MODE project, alongside thrilling performances by Space Laces, Brondo, William Black, Last Heroes, Sickick, Skeler, Bonnie X Clyde, and WAVEDASH. The festival also caters to those who appreciate the intensity of drum and bass, with the legendary Camo & Krooked ready to make waves. Meanwhile, the mesmerizing and genre-blending performance of REAPER is bound to leave a lasting impression on the crowd. As well as the melodic talents of Grabbitz, HALIENE, and Phantoms.
Ember Shores offers various room packages starting at $988. But for those seeking to elevate their Cancún adventure further, there are tempting add-ons available. Embark on an exhilarating excursion to Tulum, go scuba diving to explore the magnificent underwater world, and indulge in other enriching experiences that will make your stay in Cancún truly unforgettable.
With a multitude of package options to choose from, you and your crew can tailor your Ember Shores experience to perfection. Head to their website to explore the possibilities and secure your place in this extraordinary festival.
Image Credit: Ember Shores Official Facebook